Charles Evans Center – Health Care Bethpage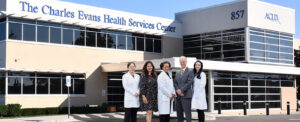 The Charles Evans Center, Health Care Bethpage is a Federally Qualified Health Center (FQHC)* that provides integrated healthcare services at its Bethpage, Hauppauge and now Glen Cove locations. We provide care with excellence and compassion to historically underserved community members with limited incomes including those with autism, learning and developmental disabilities, and behavioral health concerns.
CEC recently merged with the Melillo Center for Mental Health in Glen Cove, a health center with over 40 years of experience serving the community in the heart of Glen Cove. Renamed CEC at Glen Cove, our Health Care Bethpage will continue to provide supports that include mental health clinic, outpatient chemical dependency outpatient services, assertive community treatment (ACT), supervised community residences, supported housing and respite housing.

Health Care Bethpage
The Charles Evans Center, Health Care Bethpage, is licensed by the NYS Department of Health, the NYS Office of Mental Health and the NYS Office of Addiction Services and Supports and is supported by Nassau County Department of Human Services.
Common Conditions Treated By A Neurologist
Neurologists are specialized physicians that can diagnose and treat issues involving your brain and nervous system. As a multidisciplinary healthcare facility, the Charles Evans Center recognizes the importance of having a trained neurologist as a member of our team. Issues with the brain and nervous system can be difficult to manage for some patients, but you won't have to do it alone. To learn more about the Health Care Bethpage common conditions that can be treated by a neurologist, please visit our website or contact us for more information.
Epilepsy 
Epilepsy is a disorder that affects the central nervous system. It occurs when one's brain activity becomes abnormal, causing seizures in patients. While this condition is strenuous to handle and keep track of, through the use of medication and other suggested therapies, our neurologist will be able to help patients manage the below symptoms:
Spells of temporary confusion.
Loss of consciousness or awareness.
Uncontrolled movements of the arms and legs.
Feelings of fear, anxiety, or deja vu.
Headaches
Those who experience headaches now and again can find relief through over-the-counter medications and rest. However, there are times where the help of a neurologist is needed for treatment. If any of the below apply to you, it may be time to visit our neurologist:
You experience chronic headaches.
Headaches are accompanied by nausea, dizziness, vomiting, and confusion.
Your headaches have begun directly after suffering a head injury.
Symptoms have progressively gotten worse over time.
Sleep Disorders
Disorders relating to sleep can be highly detrimental to your health, since we rely on sleep for recovery and other benefits. When your body does not receive the necessary amount of sleep, you can spend your days feeling groggy, irritable, and as if you're trapped in a haze. By visiting our neurologist at the Charles Evans Center, Health Care Bethpage, a variety of sleep disorders can be diagnosed and treated, including some of the following:
Insomnia.
Narcolepsy.
Restless leg syndrome.
Sleep apnea.      
Additional Conditions
When you're dealing with an issue that affects your brain or nervous system, receiving a proper diagnosis goes a long way in finding the treatment needed to make a full recovery. At the Charles Evans Center, Health Care Bethpage, our neurologist works with patients to find the right treatment plan for them. In addition to the previously mentioned conditions, other ailments our neurologist may be able to diagnose and create a treatment plan for can include some of the following:
Strokes.
Brain aneurysms.
Brain tumors.
Neurodegenerative diseases.
Neuromuscular diseases.
Infections of the nervous system.
Schedule An Appointment for Health Care Bethpage
At the Charles Evans Center, our team is committed to providing the traditionally underserved members of the community with the medical attention and care they deserve. If you're being affected by a brain or nervous system problem, the help of our experienced neurologist may be needed to gain a better understanding of what is taking place. To receive the necessary diagnosis and care, make sure to contact our team today.
The Importance Of Preventative Care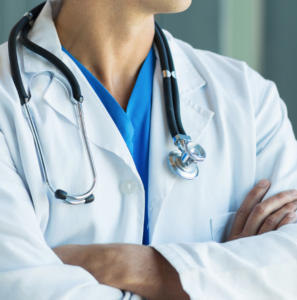 As we age, it becomes easy to cut corners when it comes to our health. However, the importance of visiting your physician once per year or more as directed cannot be understated. At Charles Evans Center, we are a multidisciplinary facility committed to providing excellent and affordable care to the traditionally underserved members of the community. We emphasize the importance of preventative medicine to help our patients live long and healthy lives.
Types Of Routine Exams:
Many aspects go into a person's health. As a multidisciplinary healthcare facility, our team understands this better than most. This is why Charles Evans Center is committed to providing our patients access to the vital medical examinations needed to keep them healthy.  Below are a few examples of the routine exams we offer, and what the practitioner does during them to allow for preventative care to be administered.
Physical Exam:
Take a brief look at your medical history and lifestyle behaviors.

Check your vitals, which include your heart rate, blood pressure, and body temperature.

Perform heart and lung exams.

Administer various other health-related tests.

     

 
Dental Exam/Cleaning:
Examine your tongue, gums, cheeks, and teeth.

Perform X-rays to determine any misalignment issues or impacted teeth.

Call-out any cavities and schedule an appointment to have them filled to fight against tooth decay.  

Thoroughly clean your teeth and gums to remove any plaque or tartar to prevent gum disease.
Gynecological Exam:
Ask questions about your menstrual cycle, sexual activity, and any health changes that have occurred since your last visit.

Perform a pap smear to check for cervical cancer, HPV, and other abnormalities.

Administer pelvic exam to check for STDs and vaginal issues.    

Examine your reproductive organs for complications that may arise during a potential pregnancy.
A Focus On Prevention:
For any medical condition you may face, the best treatment plans will always begin with prevention. It is always one of the main goals we'll focus on during any medical examination. After making a full evaluation of your health, we will provide medical advice and treatment for any issues that need to be resolved. Examples of advice that may be given includes:
Eating more fruits and vegetables and less processed foods.

Going for a thirty-minute walk each day.

Perform strength training at least twice a week.

Cutting back on smoking or consuming alcohol, if you do so.

Increasing your focus on brushing and flossing your teeth. 

Visiting your medical provider more often.
Why Preventative Care Is Important:
While many people attribute illness with having unmissable symptoms, this is not always the case. For many people, symptoms for dangerous illnesses/conditions may lay dormant for weeks or months before presenting themselves.  By the time of their arrival, treatment will be more difficult than it would have been if caught earlier. That is why you must always focus on scheduling and attending routine medical exams. By doing so, our doctors can catch ailments before they reach a serious state.  Early detection allows our doctors to offer swift treatment, and provide advice on making changes to your lifestyle that prevents illnesses from reoccurring.         
Charles Evans Center – Health Care Bethpage
At Charles Evans Center, our team understands how important it is for the entire community to have easy access to healthcare services. That is why we are committed to providing preventative healthcare to those who need help.  If you or a loved one is due for a wellness visit and would like to meet with our team, be sure to contact us today!
Preventing The Flu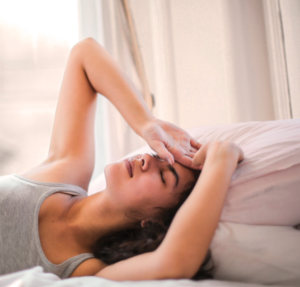 With flu season in full swing, you must monitor you, and your loved ones, for symptoms of the flu virus. The flu can be extremely contagious, and when left untreated, more serious complications may arise. At Charles Evans Center, our team is committed to keeping our patients healthy throughout the year. Here is some helpful advice on how to avoid the flu!
Strains Of The Flu:
When trying to protect yourself from the flu, you must first understand that there is more than one strain of this virus.  According to the CDC, there are three types of influenza viruses that affect humans, types A, B, and C. Types A and B are what cause the seasonal epidemic known as "flu season" each year.  Types C tends to cause milder issues than A and B and is not thought to have an epidemic effect on the population. To break it down further, Types A and B then get classified into a variety of subsets and strains, meaning there are many different iterations of the flu. Though each strain causes issues each year, the CDC predicts which one will be most prevalent on an annual basis, which ties into our first prevention method. 
Get The Flu Shot: 
As the simplest and most effective method of fighting this virus, getting the flu shot each year should be right at the top of everyone's to-do list. This vaccination will help keep you and your loved ones safe throughout the flu season.  To determine which strain(s) this vaccination covers, the CDC gathers annual surveillance data to predict which ones are most likely to circulate throughout the "flu season."
Wash Your Hands Often:
Another easy way to prevent the flu is to focus on consistently washing your hands. Due to its contagious nature, areas like handrails and doorknobs can be high-risk areas for contracting the flu.  Something as simple as washing your hands with soap and water for 20 seconds throughout the day can be enough to keep your hands free of the virus, reducing your chances of exposure.
Limit Your Time Spent Around Sick People:
No matter the time of year, staying away from people with the flu until they are no longer contagious is always recommended.  If, for some reason, you're required to be around someone who is sick, abstain from physical contact with them. Handshakes and hugs should be avoided.
Stick To A Healthy Routine:
Although healthy habits are no guarantee you will not get the flu, giving your body the best starting point can help you to avoid getting sick. For the best results, make sure you are doing the following:
Receiving adequate rest.

Making time to exercise.  

Keeping allergies under control.

Eating nutritious foods.



Don't let the flu ruin your routine! If you are looking for more ways to avoid this virus, or want to receive treatment fast, contact us today. At Charles Evans Center, our team is here to help you fight the flu by offering immunization for the virus, medication (if applicable) and our helpful advice. Visit our website, or give us a call at 631-524-5290 to learn more and to set up an appointment for Health Care Bethpage! 
Why You Should Visit Your OBGYN Routinely
Many women only need a Pap Test every three years, but this does not mean that is how often you should be visiting your OBGYN. This screening is not the only important service offered at your women's health checkup. There are many more essential reasons to be visiting your OBGYN at least once a year, or even more regularly. Our Health Care Bethpage is here to offer much more to you than a Pap Test.  
Preventing Cancer
The Pap Test is done by your OBGYN to detect abnormal cervical cells before they can develop into cancer. The recommendation of a yearly Pap Smear has recently been changed to a recommendation of getting this screening every three years, but this is only if you routinely receive normal results. If you have received abnormal results in the past, it is a good idea to get your test done more frequently than every three years.
The Pap Test helps to prevent cervical cancer, but additional screenings like a full pelvic exam and breast health exam are essential in preventing and detecting other types of cancer. These screenings are just as important for keeping your health in check as a Pap Test and should be performed annually. Our Health Care Bethpage performs these screenings not only to prevent cancer but other issues as well.  
Taking Charge of Your Sexual Health and Fertility
Screening for sexually transmitted diseases and infections should also be a part of your annual check-up. It is recommended that any woman not in a monogamous relationship is tested at least annually for gonorrhea and chlamydia. This service is provided by our Health Care Bethpage and is the first step in taking charge of your sexual health. These STDs often go unnoticed, as they can be asymptomatic, but they can be very dangerous, even leading to infertility if left untreated. 
Other reasons to visit the OBGYN relating to sexual health can be pain during or after intercourse, bleeding during or after intercourse, or any other sexual complaints or dysfunctions. Your sexual health should be a priority and not something you have to figure out on your own. Our Health Care Bethpage is here to answer questions and find solutions to your problems. 
Your OBGYN is also there to help with your birth control options. If you are using a method of prescription birth control, you will need to visit the OBGYN annually. Even if you are not using one of these methods, your gynecologist can be helpful in answering questions about the options that are available to you in order to find what works best. 
How Charles Evans Center Can Help
Our Health Care Bethpage is located at the Charles Evans Center and is here to provide you with all the services mentioned above and more. Contact us today in order to prevent cancer and take control of your sexual health and fertility.
Differentiating the Flu and COVID-19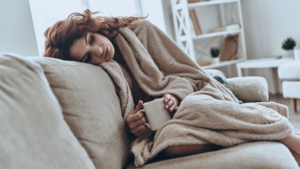 The Flu and COVID-19 are both very contagious illnesses. Some of the symptoms of both the Flu and COVID-19 are very similar in that in some cases. It may be hard to distinguish them from each other. Every person who comes in contact with this illness has different side effects because it doesn't affect everyone. Charles Evans Center, offering Health Care Bethpage, is here to help you. Schedule an appointment today to get tested if you're developing any symptoms of COVID-19.
How COVID-19 and the Flu are similar?
These viruses are contagious and can be spread around to people in a rapid fashion. It's scary because you know who can have this illness, so you must take extreme precautions while dealing with this. No matter who you are, it can spread amongst people instantly. This ranges from kids to adults and even older adults as well. Since every person who comes across these diseases is treated differently, some can experience mid to mild and severe conditions. These viruses can spread from person to person, being in contact with each other, and if a person touches another surface that you have touched. This is something that should be taken seriously and not lightly. Our experts in Health Care Bethpage can show you how these viruses are similar.
Both COVID-19 and the Flu develop very similar symptoms in which you may be dealing with:
Fever

Cough

Shortness of Breath

Fatigue

Muscle Pain

Headache
People who get the Flu will eventually recover within a couple of days to a week at times. As stated above, everyone is different, and some people may be dealing with mild symptoms while others are very severe. Anyone can get this, even if you're the healthiest person. If you start to develop any of the following symptoms, take immediate action for yourself. 
Anyone who has come across COVID-19 can deal with symptoms ranging anywhere from mild to very severe illness. Unlike when you get the Flu, with COVID, symptoms may start to appear anywhere between two and fourteen days from the time of exposure. COVID-19 seems to spread easier amongst people because you just don't who has it. The person you may have gotten it from could have been exposed to many other people, and you didn't know about it.
How COVID-19 and The Flu are different
Several different strains and types cause the Flu. Each strain varies year after year can be different from one another. If you were to be infected by the Flu, it could be about 1-4 days after exposure for you to develop any symptoms. If an infant and people with fragile immune systems come across vulnerability, they can be contagious for an extended period. However, even though this can be very severe, most people will recover within a week and possibly develop some complications. Also, the benefit of the Flu is that a vaccine is widely available, and anyone could obtain it. Our experts in Health Care Bethpage would be able to give you an annual Flu shot today. Even though the Flu doesn't protect you entirely from getting it, it reduces the risk substantially from obtaining it. This is why getting an annual flu vaccine is very important.
Although COVID-19 is very similar to the Flu, there are some differences as well. With COVID-19, you may experience some loss in either taste or smell. This strain is much more contagious than the Flu, therefore precautions should be highly recommended. There are a couple of ways to protect yourself from COVID-19:
Wearing a mask to help stop the spread of this illness.

Maintain at least a six feet social distance from others.

Avoid any crowds as much as possible. The more people that you come into contact with, the higher chance of spreading the virus.

Wash your hands often.

Clean and disinfect surfaces.
At the moment, the best way to protect yourself and others is to follow social distancing and safety protocols. Although a vaccine is a way for all of us to be protected, it's best to try and stay as safe as possible. This can potentially help reduce the risk of coming across this illness.
Health Care Bethpage
COVID-19 is a significant concern for all of us that we're experiencing during this pandemic. Charles Evans Center offers Health Care Bethpage. We are also offering virtual visits to our health centers to help stay safe during these unprecedented times. Thank you from the Charles Evans Center.
Contact us for Health Care Bethpage!
CEC has three sites serving the Long Island community
Nassau County
Bethpage
857 South Oyster Bay Road, Bethpage, NY 11714
Map
(516) 622-8888
Monday through Thursday, 8:00 a.m. – 8:00 p.m.
Friday, 8:00 a.m. – 5:00 p.m.
---
Glen Cove
113 Glen Cove Avenue, Glen Cove, NY 11542
Map
(516) 676-2388
Chemical Dependency Clinic
Monday: 9:00 am – 8:00 pm
Tuesday: 8:00 am – 8:00 pm
Wednesday: 9:00 am – 8:00 pm
Thursday: 9:00 am – 8:00 pm
Friday: 9:00 am – 5:00 pm
Mental Health Clinic
Monday: 9:00 am – 5:00 pm
Tuesday: 9:00 am – 7:00 pm
Wednesday: 9:00 am – 7:00 pm
Thursday: 9:00 am – 7:00 pm
Friday: 9:00 am – 5:00 pm
Suffolk County
Hauppauge
305 Oser Avenue, Hauppauge, NY 11788
Map
(631) 524-5290
Mon, Wed, Thu, Fri, 9:00 a.m. – 5:00 p.m.
Tue, 12:00 p.m. – 8:00 p.m.
If you have any questions, please contact us using the form below: