Residential Services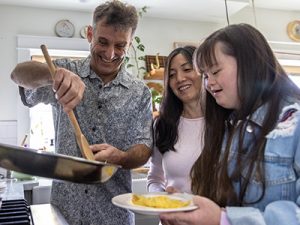 The residential program at CEC Health Care remains dedicated to providing safe, secure and affordable housing to adults with Severe Mental Illness (SMI). The program consists of various levels of housing including Supportive Housing, Forensic Supportive Housing, Transitional Housing and Crisis Respite. Residential staff work with recipients on targeted goals to ensure that they remain supported in the community. The Care Coordination program provides community support to adults with SMI. Care Coordinators partner with recipients to help connect them to the care they want to improve their health and support network.
Supportive Housing – Independent Living Program
CEC provides over 150 permanent, safe, and affordable residential placements in our Supportive Scattered-Site Housing Program. This program offers rental assistance and support services to mental health consumers who are ready to live independently. In this program, individuals live in apartments or houses throughout Nassau and Suffolk Counties. Housing Case Managers meet with individuals several times per month to work on the individual's goals and assist with coordinating care and services. Specialized support services have been developed for families and for consumers who are homeless and/or who are deaf.
Enhanced Forensic Supportive Housing – Independent Living Program
This program provides housing and supportive services to adults with behavioral health and forensic involvement. Participants receive coordinated case management support to help stabilize their lives. Additional program services include housing advocacy, money management services, linkages to HIV prevention, access to benefits counseling/advocacy, workshop groups focused on teaching life skills, access to medical and oral health care, and access to behavioral health services.
Supervised Community Residences – Transitional Housing Program
CEC provides three single-site community residences. These residences provide group living for adults with on-site staffing, 24 hours per day, 7 days a week.  Services include medication monitoring, symptom management, rehabilitative activities, and community integration including transportation training, banking, shopping, socialization, linkages to psychiatric and medical services in the community, linkages to employment and/or educational services, etc. These services and supports provide residents with skills to move on to more independent housing opportunities. Community residences are located in Glen Cove, Glen Head, and East Hills.
Safe Harbor – Crisis Respite
This is a short-term residential setting with specialized support for adults 18 years or older who are experiencing a mental health or housing crisis. We provide 24-hour supervision in a warm safe environment. Safe Harbor's goal is to provide emergency/respite housing and to work closely with case management to secure housing for individuals with a diagnosed mental illness who are in a situational crisis. We support the individual's confidence and skills to improve their ability to safely work through their crisis and improve their living situation. Residents may stay from 1 to 28 days. For more information, please call us at (516) 313-7177.
Safe Harbor: Applicants cannot be homeless upon admission. The discharge plan needs to be submitted in writing upon admission to ensure that the recipient can safely transition at end of a 28-day stay. The program fee is $500 for the 28-day stay with rent prorated if the actual stay is shorter/longer.
Mobile Residential Support Team (MRST)
CEC provides an enhanced level of support for individuals in the New York State Office of Mental Health scattered site supportive housing. The support team will consult with the tenant, his/her treatment team, and the Health Home to develop an individualized support plan. A CEC Health Care team member is available 7 days a week to provide in-home support services to help residents progress toward personal recovery. After six months of service, resident progress is formally evaluated to determine the need for continued service or lessened support. CEC Health Care MRST can serve adults in supported housing located in Nassau County.
For more information please call: (516) 266-9020, ext. 4216.