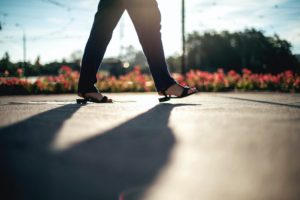 Have you been waking up in the morning experiencing very intense stabbing pain in the arch area of your foot? Do you not stretch often when you wake up in the morning? If you answered "yes" to both of these questions then you might be experiencing plantar fasciitis. Plantar fasciitis is a very common foot injury that people endure that usually hurts them in the morning but then proceeds to stretch out and loosen as you walk around more throughout the day. Even though it is not a very serious injury it is something that should be looked at and diagnosed by a doctor. If you are looking for a Podiatrist in Brentwood that accepts Medicaid, you should contact Charles Evans Center to schedule an appointment. 
What is Plantar Fasciitis?
Plantar Fasciitis is a common injury that is located around the heel bone. It is the inflammation of the plantar fascia tendon, which is a thick band of connective tissue that runs along the bottom of the foot to connect the toes to the heel. This then creates a stabbing pain in the heel area that usually hurts a lot more in the morning, then the pain starts to decrease as you move more throughout the day. Even though there is no definite cause for plantar fasciitis there are some factors that might put you more at risk to it. 
A runner who is overweight or who does not wear shoes with proper support might be more at risk. Also, switching to a new pair of shoes, that are not broken in, can have an effect on your feet. People who have odd walking mechanics can also be a risk, like flat feet or high arches. Lastly, someone's occupation that has them on their feet more as well as standing and walking around could be more at risk to develop plantar fasciitis. More activity on the foot's tendon is a key factor that increases the risk that someone might develop plantar fasciitis. Our podiatrist in Brentwood that accepts Medicaid would be able to properly educate you on the risk factors of plantar fasciitis and help you prevent developing it. 
What Are The Symptoms?
Plantar fasciitis has some particular symptoms that you can test at home to see if you potentially have it. It is still advised to see a doctor so that they can diagnose you properly and provide you with the best type of treatment plan to help ease the pain. Some symptoms of plantar fasciitis are: 
Sharp heel pain 

Pain when flexing the foot tendons 

Foot pain after prolonged rest 

Foot pain after prolonged activity

Heel tenderness
Best Treatments for Plantar Fasciitis
When seeing your main health physician it is important to tell them all the symptoms and problems that you have been experiencing. They might recommend that you see a podiatrist in Brentwood that accepts Medicaid, someone who studies and specializes in feet. They have the insight and the expertise to properly diagnose and treat foot problems to get back doing the things you love to do. Plantar fasciitis is a very common condition that people suffer from, so a podiatrist will most likely have prior experience and know the best plan of treatment. There are many different treatments that they can recommend and offer that will be able to reduce the inflammation of the foot tendon. Some of the best treatments that they can offer to their patients are: 
Medications (could reduce the inflammation and the pain of the affected foot)

Steroid injections (injected to the most painful area of the plantar fasciitis will reduce the pain for around a month, but will also lower the inflammation for longer than that)

Shockwave therapy (will shock the plantar fasciitis with actual sound waves stimulating blood to the rest of the foot particularly in the inflamed area to help heal it) 

Prescribed orthotics (provide the feet will proper support tailored to your foot)

Physical therapies (therapist can provide you with exercise and stretches to rebuild the strength of the foot muscles to improve mobility)

Surgery (this would be a last resort if no other types treatments are working or the plantar fasciitis is that severe) 
There are some at-home stretches and remedies that you can do to yourself. These include: 
Changing your shoes 

Maintain a healthy weight and lifestyle

Stretching the arches of your feet (this can be done by putting your toes at the beginning of a stair and letting the back of your foot hang off by stretching).

Apply ice to the inflamed areas
How a Podiatrist in Brentwood that Accepts Medicaid Can Help
Charles Evans is here to help you by providing a wide array of services that will be able to serve your needs. Their service ranges from podiatry and neurology to dentistry and family medicine. The well-trained staff is always striving to provide their patients with the best care and service by creating a safe, comfortable environment that people enjoy visiting. If you are looking for a podiatrist in Brentwood that accepts medicaid, you should contact the Charles Evans Center to schedule an appointment.