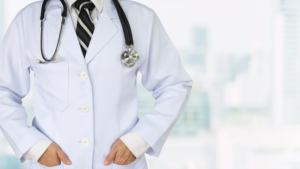 If you're sick or in pain, you may be thinking about a trip to the doctor. But there are so many specialists, it's hard to figure out where to start. That's why it may be the best option to visit a Family Medicine Doctor in Brentwood that Accepts Medicaid first, among many other reasons. At Charles Evans Center, we want you to know that you will be treated with the utmost care and compassion.
Family doctors see every age of patient for many types of care; an internist typically sees adults while a pediatrician sees children. A family doctor's way of seeing patients helps to build a relationship with them over many years while treating and often helps in diagnostics. 
Duties of a Family Doctor
For example, if a patient has headaches, a doctor in an ER that may not know the patient well might recommend an MRI of the brain. But a Family Medicine Doctor in Brentwood that Accepts Medicaid may know that you have been feeling your best lately overall and might ask more about the stress in your life. 
Here are just a few of the things a family doctor will treat:
Heart disease

Pregnancy

Sinus infection

Urinary tract infection

Arthritis

Skin rashes

Sprains or strains
Family doctors can treat many different ailments, and in a non-emergency situation, it may be best to see a family doctor before seeking out a specialist. Specialists often are more expensive than a family doctor and may not accept all insurances. Our office even includes dentistry, podiatry, and mental health treatment alongside our family doctors and can recommend specialty services that accept Medicaid if you need further information.
Procedures Performed By Family Doctors
Did you know that a Family Medicine Doctor in Brentwood that Accepts Medicaid can also perform procedures? Family doctors are often affiliated with hospitals and may either perform a procedure themselves or coordinate with a hospital or specialist for you. Here are a few of the procedures a family doctor may perform:
School or yearly physical exam

Cancer screenings

Vaccinations

Colonoscopy

Spirometry

Muscular-skeletal injections

Ultrasound imaging

Suturing lacerations
You may be thinking about cost when you hear about procedures like these. But a family doctor will be the less expensive option as opposed to staying in a hospital.
Many insurances will not cover every part of a hospital stay. It is oftentimes at their discretion what kind of procedures and the length of stay they deem appropriate to cover. However, a Family Medicine Doctor in Brentwood that Accepts Medicaid may be the best option for your treatment.
Benefits of Seeing a Family Doctor
One of the other benefits of seeing a family doctor is that they often live in the community they serve. This can provide them with vital information about the community and public health in the area and how best to treat you. Something like knowing that community housing has been under construction can tell them why you might be coughing or your asthma is agitated lately. Other doctors that work in hospitals may fly in to perform surgeries around the country and may not know you on a community level.
You can be assured that our Family Medicine Doctor in Brentwood that Accepts Medicaid will do exactly that. Our News & Events page can show you how our office is deeply involved in the community and how we both reassure you and thank our staff for their service to our patients.
Our two doctors–Christine Brown, MD, and Ivy Chung, MD–are Board Certified in Family Medicine. This means that both of our doctors at the Charles Evans Center:
Stay up to date on the latest treatments and technology

Treat with the patient and the community in mind

Committed to meeting high standards in physician quality

Engage with peers and complete ongoing certification
A Board Certification is not just a mark of excellence because it is on a voluntary basis and assures you that the doctor you've chosen cares about you and your community's well-being. 
Contact Charles Evans Center Today To Learn More!
Our doctors understand that seeking treatment may be a scary prospect, but because we care, you will be led through every step of the treatment process. For more information about what we do, contact our office today and book your appointment to get the best care for you!